Tokyo Classified Magazine / 2000
The Power of Music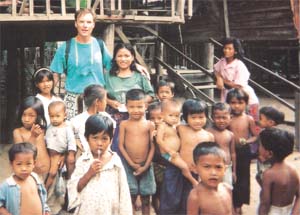 Photo courtesy of Cliff
Tokyo Classified Magazine talks to former pop / jazz performer Cliff Woolley who is helping bring a note of hope to the children of Southeast Asia.
"Some may consider me an idealist, but I feel the world would be a better place if we had more music and less violence in our lives." As the man behind "Guitars for Guns," Cliff should know. "Music makes you a more tranquil person and raises aptitude," he says." And from personal experience he has discovered the power a tune can have on an individual
Born in the Bethesda, Maryland US Naval Hospital, he moved frequently throughout his childhood (MD, NY, Chicago, French Morocco, NJ, Los Angeles) and was often forced to leave friends behind. "Music and books became my lifetime friends," Cliff says. My mother is a NY born Sicilian and dad was an Irish German Jew which made for an ethnically electic upbringing.
We moved from NY to S. Calif in 1960 where I had Japanese friends and teachers.
Surrounded by musically gifted classmates, Cliff started studying music around the age of 10 on harmonica and French horn, and joined his first band at 12 playing American Blues music. He studied jazz guitar with icon Barney Kessel and Wayne Newton guitarist Bob Reid.
Cliff played concerts for years with Grammy Award winning group Ambrosia (hits – Biggest Part of Me, That's How Much I Feel, Holdin' On To Yesterday, You're The Only Woman).
Later, was member of #1 hit group The Association (hits – Windy, Never My Love, Cherish, Along Comes Mary).
Cliff was a bandleader / agent from '68-77 and used sidemen including smooth jazz pianist David Benoit, bassists Tony Garnier (Bob Dylan), Kenny Lee Lewis (Steve Miller), John Pierce (Huey Lewis), Keith Hollar (Johnny Nash, Steven Bishop), drummer Art Wood (Gary Wright) the Ambrosia rhythm section and other top LA players.
When he headed to Vietnam for the USO / Department of Defense in 1971, as a 20 year-old student, it wasn't to fight the Viet Cong but to play his guitar to ears only used to the echoes of war.
"I accepted an invitation by Bob Hope to tour military hospitals and bases for the United Services Organization (USO), sitting on hospital beds, playing music, consoling wounded soldiers, boosting morale."
I was given honorary GS-15 Captain status during my tours and was awarded by US Army Chief of Staff General Fred Weyand the last Commanding General in Vietnam.
These wounded young men were traumatized and fearful of the anticipated reactions of their families and loved ones when they would see the physical and emotional damage they had sustained.
"How will my family and friends react when I go home like this?" was deeply on their minds. "I was an impressionable young man in a war zone. The therapeutic value of music stuck with me." Indeed music therapy is now recognized and taught at University level.
Cliff later traveled to Japan, Guam and The Philippines on similar tours before returning home to Torrance, Calif. where he resumed music theory and Japanese studies at El Camino College.
He performed and studied with polytonal jazz master Tommy Gumina founder of Polytone Amps and played in the US debut of The Who's rock opera Tommy with Ambrosia.
He later worked with jazz alto sax legend Art Pepper 2 years.
Cliff moved to Japan in the mid 70's and toured with Ambrosia for UDO Music, Japan's oldest rock promoter.
He became sales rep for Schecter Guitar Research, International Musician Magazine, Fender and Gibson Guitars, Roland, Yamaha, Korg and later, Paramount & Universal Asia and worked doing tour support / artist iaison for Eagles, Don Henley, Toto, Rolling Stones, Stevie Wonder, Talking Heads and many others.
During this time he often had the opportunity to sit in as guest performer with touring bands like John Lee Hooker, Robert Cray and his childhood bandmates Ambrosia.
But a visit to warn-torn Cambodia in 1995 reawakened his desire to use his musical gifts for therapeutic purposes. Cliff stayed on in Phnom Penh when most foreigners left the country after the coup d'etat in 1997. "There were brutal firefights, lootings, death squads, chaos and Russian T-55 tanks in the streets of Phnom Penh. Tens of thousands of refugees fled across neighboring Thailand's borders."
"I provided shelter to a number of Khmer families, and covertly published a website called Cliffnotes from the Killing Fields of Cambodia, posting reports of atrocities and crimes against humanity as documented by Major Mark A. Smith, US Army Special Forces (ret), and Col. Soth Sambath, Cambodia Liaison to Interpol. We sent reports to media, military and government organizations worldwide. No one seemed to care."
When the fighting subsided in Sept. '97, Cliff was appointed Music Director for the Cambodian Disabled People's Organization, teaching music to blind and physically impaired Khmers.
"I taught and played jazz classics for them. My students and I were overwhelmed, they would hug me, tears streaming down their sightless eyes. It was a humbling experience."
In the midst of the chaos of weapons, drugs, violence and non-existent education, role models and positive influences, Cliff came up with his brainchild "Guitars for Guns."
"Play music and those around you will feel better. Some may want to participate. Pick up a weapon and someone is going to die, it's a no-win situation," he reasoned.
Cliff bought a motorcycle, loaded it with guitars and harmonicas and traveled the Cambodian countryside visiting villages, teaching and playing music. His objective was to take away some weapons and put musical instruments in the hands of the misguided youth.
"Hell yes, I'm an optimist! A musical instrument traded for a weapon of destruction, which is publicly destroyed – it's a start! When I was marketing for Paramount and Universal we publicly destroyed pirated video cassettes, and it does have a positive effect." At the very least it raises public awareness and helps shame the bad guys into hiding.
"Look at the sales figures of musical instruments compared to weapons," he says. "It's out of control." Cliff aims to focus world attention on the problem and hopes to convince global music industry manufacturers to donate low-end instruments to his projects.
"In a few years, with hard work these troubled regions will have healthy market economies, and instrument manufacturers will have new markets for their products."
JINTARA PUNLARP / THAI LAOTIAN MUSIC "MORLAM"
After leaving Cambodia in 1998, he embarked on his next musical adventure: to work with Jintara Punlab, the superstar singer from Issarn, Northeast Thailand.
Cliff wanted to promote Jintara globally and was introduced to her by the CEO of Grammy, Thailand's largest entertainment company. He met Jintara at one of her rare Bangkok appearances, and the following day, joined the "Jintara Convoy," a huge show consisting of about 100 performers, on what would become a two-year, musical gypsy caravan, performing outdoor concerts nightly in remote parts of Issarn, along the Mekong River.
The Golden Triangle region is infested with methamphetamine drug labs and "tons of yabah [the drug's local street name] are smuggled across the border daily, finding their destructive way into the bodies and minds of children and adults," he said.
"I realized that traveling with the Jintara Convoy presented an excellent vehicle for becoming role models for the youth of Issarn. I envisaged us becoming kind of like Musical Morlam Mousekateers." (Morlam is the local music of Northeast Thailand).
And with Cliff's tenacity, this project materialized.
Various member of the ensemble became The Morlam Doctors, visiting hospitals and schools along the concert trail and performing inspirational music.
"Think about it, how effective is it if a cop comes to your school makes a speech saying if you get caught with drugs, you're gonna be my guest for a year? Not very. I think positive messages interlaced within music and comedy are much more effective."
Cliff is now back in Tokyo working as a recruiter for multinational firms and continues volunteer activities in Southeast Asia.
With a motto reading "Unsolicited acts of kindness and generosity to those in need," Cliff feels compelled to help right some terrible wrongs. "Instead of hoarding their good fortune and resources, people of the First World should shoulder responsibility to help those with less advantages than ourselves. I'd like everyone to take a year off work and live in the dirt with people who have nothing. Learn what they can to do help."
"At a tender age I witnessed the horror and futility of war in Vietnam, recently again in '97 in Cambodia," he said.
"I have found I have a natural gift for helping people become productive, and in turn, to influence them to help others."
For more information about Cliff see – www.cliffworks.net – mail – cliff@cliffworks.net- tel Tokyo 090-7729-1195